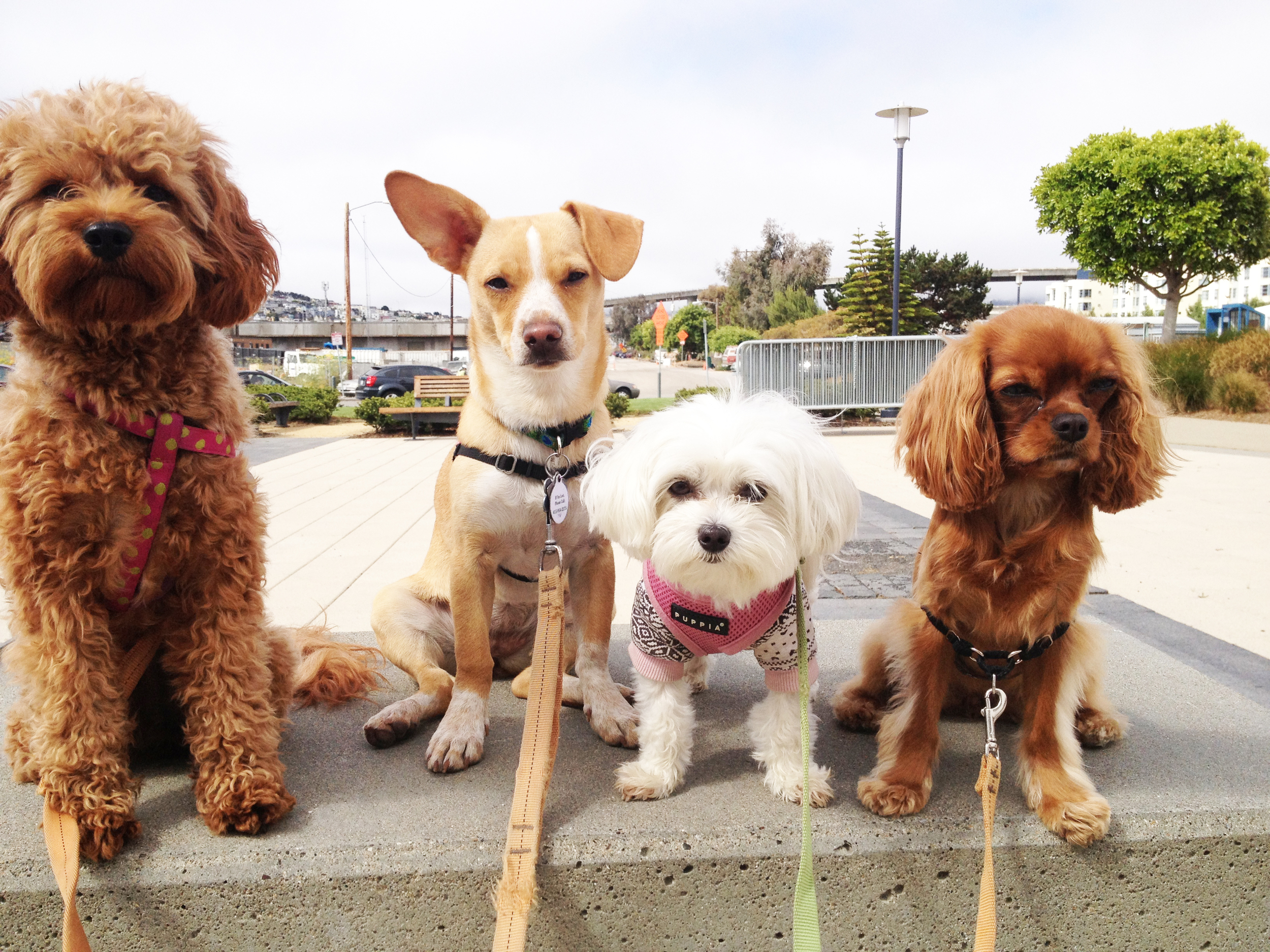 Small Dog Walking
San Francisco, CA
As a professional, certified dog walker, Laura has ten years of experience working with dogs of all shapes and sizes. She understands dog behavior, pack management and has thorough training in canine first aid and CPR.
Meet Laura Ast, Certified Dog Walker
Reliable, friendly and fun - your dog's second best friend!
Laura followed her passion when, in 2009, she decided to leave the design world and focus her career on dogs. She has worked at the highly respected SF Puppy Prep, San Francisco's only socialization program exclusively for puppies. There she trained puppies, assisted with classes and managed the office.

Laura spent the next few years developing her skills working alongside the schools' professional dog trainers. She went on to earn her professional dog walking certification from DogTec's Dog Walking Academy and work with dogs in other daycare and dog walking businesses in San Francisco.
Knowing how important consistency is for dogs, Laura will be there for yours, rain or shine, with her outgoing and friendly attitude and commitment to superior care. Laura feels she's got the best job in the city, spending her days outside exercising and working with dogs she loves.
Phone
415.672.8518

HOURS
Mon-Fri 8a–5p

Location
1527 Guerrero Street
San Francisco, CA
Every Dog Should Have This Much Fun!
Walking, running, playing with other dogs…with Little Adventures Dog Walks, your dog gets a regular dose of exercise and mental stimulation to stay healthy and happy. You get to come home to a calm, well-behaved dog after a day at work or away.
With our reliable and friendly services, your dog will never know the meaning of lonely or bored!
What We Offer
Carefully selected dogs in each pack

Socialization - develop trust and confidence

Reinforce manners and basic obedience skills

The same certified dog walker every day

A schedule you and your dog can rely on

Pick-up and drop-off at home or work
SF Neighborhoods
Bernal Heights, Castro, Duboce Triangle, Glen Park, Hayes Valley, Lower Haight, mid-Market, Mission, and Noe Valley.
Rates
3 Walks/Week Monthly Rate $420
4 Walks/Week Monthly Rate $510
5 Walks/Week Monthly Rate $590
What Our Clients Say About Us
 
"Laura is a fantastic dog walker! My labradoodle, Lucy, loves to go to the beach and Fort
Funston, so her romps with Laura are perfect. Laura has a gentle demeanor and great energy,
perfect qualities for this job. We are very happy!" – Andy
"I cannot say enough positive things about my experience with Laura and her dog walking service. She is incredibly
thorough and thoughtful in her service and genuinely cares about the animals she is working with. My dog Kuna comes home
happy and well exercised after having spent a day with Laura and her pack. To be honest, there is not another person
Kuna is happier to see than her when she shows up for their daily trips together." -Ken
"My dog Andy LOVES Laura. On the days she doesn't walk him he listens as every person walks by the apartment in the morning,
I think, hoping that it's her. On the days she does come he rockets to the door as soon as he hears her. She's reinforced
so many good behaviors in Andy that every time I take him walking off-leash I can tell he's getting good training.
And it makes my day a lot better knowing he's having a good time." -Megan
"Laura is the best, I really appreciate her service. She is a professional who knows her dogs. Reliable, approachable, and kind, Laura is the only one I entrust my beloved poodle, Mole to. It makes me feel good to know that my dear Mole is in such good hands.
A neighbor recently stopped me to inform how consistently sweet and considerate she is with him." - Ute
"Laura has been great with my leash reactive dog. With her management and continued positive training
while out and about at Fort Funston, Ellie has been able to continue socializing in an off-leash group environment and has
become more accepting of unfamiliar dogs. Ellie is always safe in Laura's capable hands!" - Carol
"Laura is the one you want to walk your dog- she is the best ever! My dog Hailey is the most important thing to me and I
have complete trust and confidence in Laura that she will always take the best care of her." -Karen
"I whole-heartedly recommend Laura! She has been walking our Stella for over a year now and I just keep
discovering more to appreciate. When we first met, I immediately got a sense of how solid and reliable she is.
Her knowledge in working with furry companions extends from behavioral to practical to intuitive. Laura is also very
responsive to any questions or concerns we have. She communicates clearly, and is warm and caring.
I feel very lucky that Stella gets to have such fun days in her puppy pack with Laura at the helm." - Rachel
"Remy loves Laura and is always excited to go for his daily romps with his buddies.
We love that Laura takes them to off-leash areas. It is evident that Laura loves dogs and we are never
concerned about Remy's safety when he is with her." – Megan
"Monday mornings are Mole's favorite way to start the week! Once he hears Laura's arrival,
he hurries to stretch and greet her as she reaches the top stairs. I know he's elated to see her and his beach buddies
waiting in the car after a long weekend. Laura is always cheery and happy and I know Mole is in good, loving hands.
She's great and loves her dogs. I would love to tag along one day!" - Kevin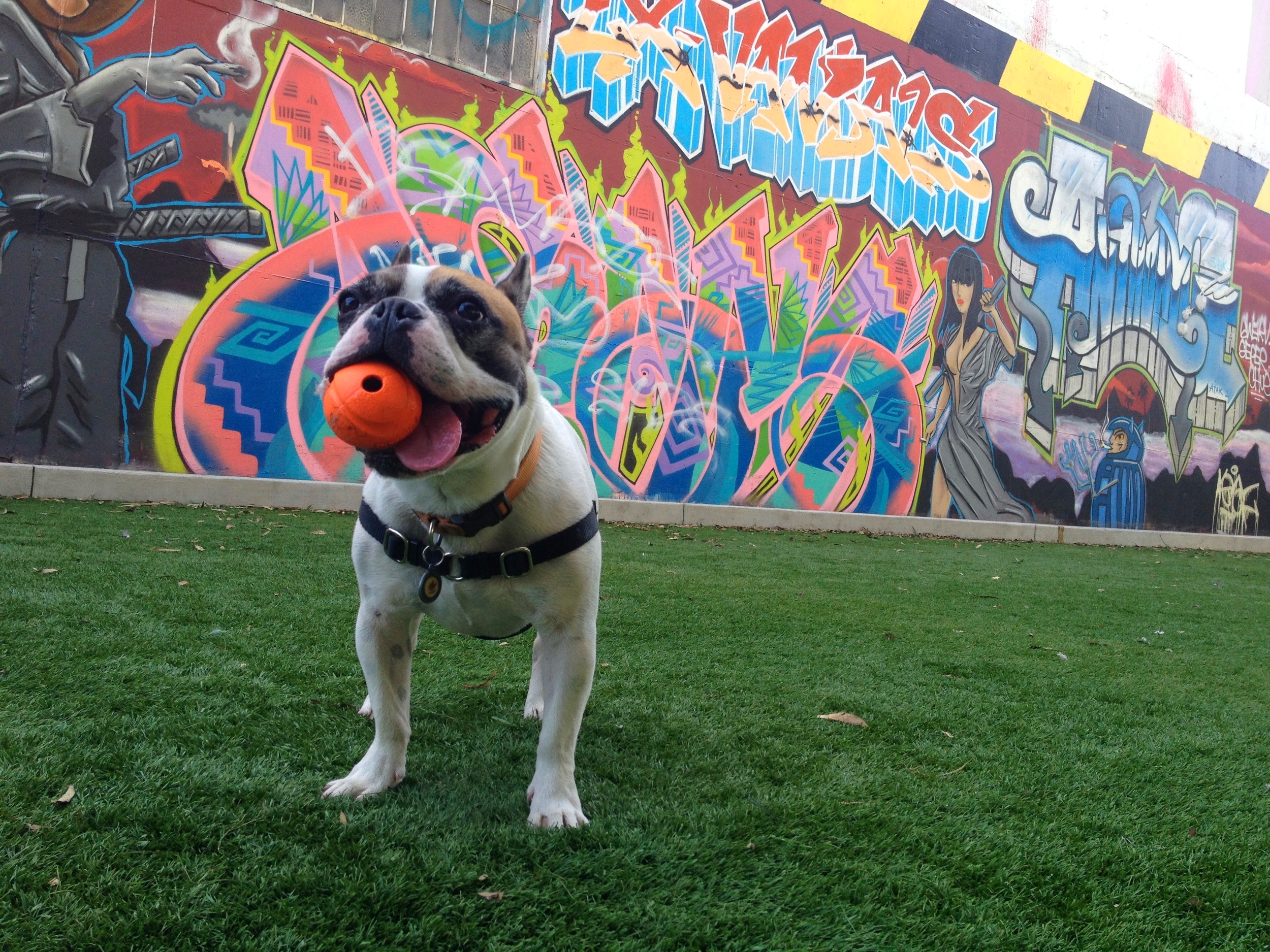 Most dogs love socializing with other dogs! Little Adventures Dog Walks caters to active small dogs that thrive on running with the pack.
Small dog focus
For our small-dog only pack, we accept dogs up to 25 pounds that are dog and people friendly and have good basic obedience skills. Because we focus on walking packs off-leash, your dog needs to be under voice control (or working on it) for pack instructions. During our walks, we reinforce the dogs' recall and other basic obedience skills and manners. We work on their impulse control, teach them to redirect their attention when needed and strive to maintain calm and quiet in the car for some downtime.
Where our adventures take us
Every adventure lasts 2 to 3 hours, between pickup, a 60-minute workout and drop-off. This gives us plenty of time to hit one of our favorite trails. It may be to Fort Funston, Golden Gate Park, Buena Vista Park or Crissy Field. We mix it up, but focus on the places the pack likes best. We select only locations that are safe, clean and provide plenty of shade on hot days.
How we roll
We transport dogs safely in a clean, air-conditioned and well-maintained SUV, using crates or harnesses to keep your dog secure. We carry water for our own use (and avoid those icky public water bowls) towels and wipes to keep clean, and a first aid kit, just in case.
Rules we follow
San Francisco's Animal Care and Control has strict regulations for all dog walkers within SF city limits. Little Adventures Dog Walks meets all the regulatory requirements and carries current permits. We are licensed and insured and have the proper training to keep dogs under control and having a great time! Additionally, we are certified in CPR and First Aid by PetTech.
Prerequisites
Your dog must be at least 6 months old to join our adventure groups. Dogs must be spayed or neutered. We reserve the right to refer you to another service if your dog's play style does not fit with the pack, or if behavioral issues develop that prevent your dog from getting the most from the experience. Click here for all our requirements.
Ready for a healthier, happier dog?
If you're looking for a professional and trustworthy dog walker to be your dog's second best friend, call today for a consultation. We'll be happy to meet with you in person to discuss your needs and make sure we're a good fit.
Call today
415.672.8518
OR
Fill out the form below and we'll get back to you within 48 hours.
We look forward to meeting you and your dog!